Cheryl Thomas, Office Administrator at AAC Waterproofing:
"As a company, we tender for a significant number of contracts in the public sector and with large commercial clients. Having both these certifications has certainly reduced both time and complexity in completing PQQs and they are viewed by our customers as a 'stamp of approval', demonstrating that we are a well organised company with proper policies and procedures in place.
"I was a little daunted at first, knowing nothing about the ISO system but working alongside the Equas consultant, Dave Maxwell, I got to grips with it quite quickly as ISO in a Box™ is straightforward and very logical. The fact that Dave has a construction background was a real bonus as he understood our business very quickly.  It's my job to keep the system updated and life is now a lot easier."
The Company
Established in the 1970s, AAC was one of the first UK companies to adopt and operate with single-ply EPDM membranes. It has a purpose built facility providing accurate and efficient prefabrication of high quality waterproofing solutions.
It holds the only UK license for the installation of 'Prelasti', a rubber membrane that is lightweight, environmentally friendly with a proven durability of more than 50 years.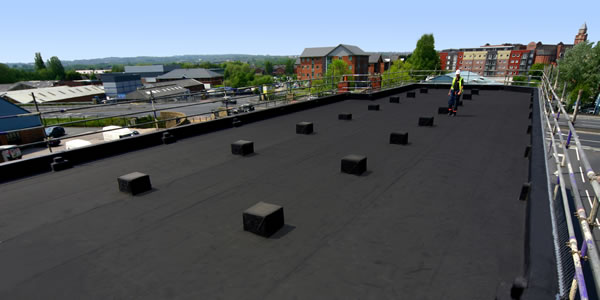 Its workforce of 20+ included a team of highly experienced in-house installation technicians. The company offers an extensive range of BREEAM rated products and projects cover pubic sector, commercial and private buildings, leading edge architectural structures, cladding, tanking, lining for lakes and ponds through to waterproofing for extreme environments.
The Challenge
Although successfully tendering for, and winning, work it recognized that the big construction companies and utilities were increasingly demanding ISO 9001 and 14001certification and that it would help the company increase its conversion rate.  Achieving both of these Standards would provide the leverage to reach preferred supplier status with key customers.
Methodology
Given his previous career, Equas consultant Dave Maxwell was already aware of the contracting process that AAC needed to go through. He spent time with Cheryl, familiarizing himself with the way they worked and carrying out an audit to identify any gaps in their procedures. A lot was already in place but not necessarily in the right place, so a lot of the initial work was to pull disparate existing information and documents together in order to integrate it into the new system and make it easily and speedily accessible.
New formalised procedures were introduced – such as management review meetings that were already going on in the background – but there was no documented evidence and the Standards required us to set agendas for these meetings. New logs were created for flagging up any problems and improvements that should be visible in the system. Vehicle checks were introduced along with waste records and site diaries for each project the company was working on.
In less than a year, AAC Waterproofing obtained both ISO 9001 and ISO 14001 certification – and Dave continues to keep in contact with the company to ensure the system is running smoothly and offer any advice needed.
Benefits
There are few roofing companies that hold this certification and accordingly, AAC has escalated its probability of winning new customers whilst enhancing its likelihood of retaining existing customers. The company has dramatically reduced its fuel and tool hire costs and now has a 100% recycling rate. According to its MD, the company is now a much fitter and stronger business and, given the ease of implementation and use offered by ISO in a Box™, is now looking at working towards ISO 18001 certification.