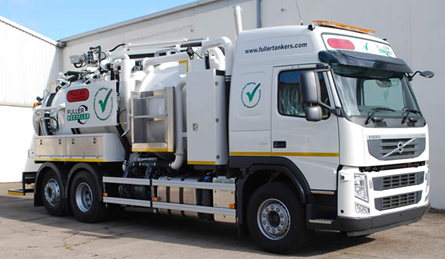 Fuller Tankers of Sedbury, Chepstow are specialists in Jetting Tankers, Vacuum Tankers, Jet Vac, Sludge Tankers, Street Washing, Fuller Recycler and Jetting Equipment with more than 50 years, experience.  Their full range of products can be seen at www.fullertankers.com.
Their customers include many Local Government Authorities and Water Utilities as well private contractor customers in the UK and World Wide.
Tankers are built on truck chassis from a range of manufacturers and in a range of sizes.
By October 2014 the new European Whole Vehicle Type Approval system will be in place for commercial vehicles and as part of this, the company needed to be able to achieve approval for what is known as 'Conformity of Production'. ISO 9001 certification is central to achieving this.
Fuller Tankers retained Equas to help them towards ISO 9001 certification.   In February 2011, using the ISO in a Box™ system, the company successfully achieved their certification. The Vehicle Certification Agency (VCA) was chosen as the Certification Body for ISO 9001 and is also the Certification body for the Type Approvals.
Shortly after becoming certified to ISO 9001:2008 the company became a supplier on the Achilles UVDB, which is recognised as the standard approach to pre qualification in the Utilities Sector.  The ISO system aided significantly in this and the effort was quickly repaid through Fuller Tankers gaining an order from Welsh Water for several vehicles!
Work was begun in early 2011, in co-operation with Volvo Trucks to build a new Recycler Tanker to be submitted for European Whole Vehicle Type Approval,  the base vehicle being a Volvo FH 420 HP Euro 5, 6 x 2 rear steer and lift axle with a Globetrotter Cab.
Testing by the VCA included a physical test of certain components.  The finished pre-production vehicle was eventually delivered to the VCA test house for examination.  Checks were made on masses & dimensions, positions of lights, lateral protection and rear underrun protection etc. Components were checked for Type Approvals and the full Type Approval documentation for the Volvo Truck was submitted for checking.
During this period Fuller Tankers was successfully granted Conformity of Production by the VCA, through the ISO 9001 certification and examination of the company's Control Plans and other documentation for production.
The result was full certification of European Whole Vehicle Type Approval which was received in Mid-February 2012.  This is the first vehicle of its type to achieve the Approval and is thus a great achievement for the company.
The vehicle is now the company's demonstrator.  It will be exhibited at the Commercial Vehicle Show at the NEC between 24th and 26th April (on stand 3F58).
The company now plans to extend Type Approvals across its range.
Equas continues to support Fuller Tankers in the operation of their ISO 9001 Quality Management System, to achieve continual improvement throughout their operations.