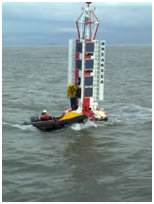 Based in the port of Barry in South Wales, GJ Binding & Sons Ltd is a long-established marine contractor
Founded in the 1920s by G J Binding, the company originally operated salvage vessels and did occasional work for Trinity House, the organisation that is responsible for the maintenance of lighthouses, buoys and aids to navigation around the coast of England and Wales http://www.trinityhouse.co.uk.
By the 1950s the company had become dedicated to working solely as a contractor to Trinity House, which it continues to do today under the management of Peter Binding, the Grandson of the founder.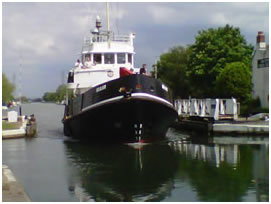 The company operates a 160 tonne ex-MOD Admiralty Fleet Tender called 'MAIR', and a 6.8 metre twin outboard engine Rigid Inflatable Boat.  Both are fully equipped and coded by the Maritime and Coastguard Agency as work vessels.  With these two vessels the company works to maintain buoys and lights all around the coastline of England and Wales. This work is both routine maintenance and what is referred to as 'Casualty' work, carrying out repairs to navigation marks that have failed or been damaged.
The company recently tendered successfully for the renewal of its contract with Trinity House and a requirement of the new contract was certification to ISO 9001:2008.
Equas consultant Mark Pendleton guided the company through the process to successful auditing by a UKAS-accredited Certification Body.
It happens that Mark has maritime experience both as a former Royal Naval Reserve Seaman Officer and also as a keen Yachtsman. With a good understanding of the environment in which GJ Binding & Sons operates, Mark was able to work very effectively with the company and in particular with Andy Wright, the Master of 'MAIR', to improve the documentation of systems and procedures to which the company works.
The audit was somewhat unusual in that it was largely conducted in 'MAIR' underway. She had been in Dry Dock in Gloucester and, as a result of some delays in completing mechanical work, the audit had to be conducted while she made her way back to base in Barry, ready to respond to calls from Trinity House to keep mariners safely navigating around the coast.