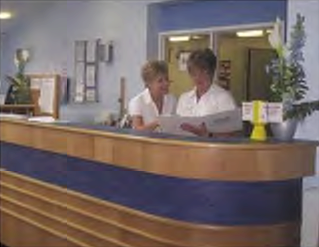 'ISO in a Box' was originally launched by Equas as a simple and cost-effective tool to help SMEs achieve ISO 9001 certification. Since then a number of sector-specific versions have been developed for industries including waste management, security – and even concrete repairers.
Now 'ISO in a Box' has proved to be the right prescription for Blackthorn Health Centre, which is part of the Hampshire Primary Care Trust. The healthcare sector has a number of very specific requirements that need to be integrated within its quality management system, as Angela Felton, system administrator at Blackthorn explained: "Things like medical directives, protocols and guidelines for our GPs are part of our working lives.
"We needed the system to incorporate all of this. I think that ISO 9001 is based more on business requirements and we wanted it to work for us, rather than us having to adapt to it, so it was a learning curve for both organisations.
"ISO in a Box provided the fundamentals – the building blocks on which we could expand and we received our certification back in January. Our pre-audit was especially useful and the lady from the UKAS-accredited audit body, who carried it out, was brilliant and gave us some pointers where we could make things more measurable. "We didn't need to get ISO 9001 but it was what the GPs wanted because we carry out a lot of our work under the Quality Outcomes Framework, which is moving towards a business management style.
"Now we're a few months down the line, people are becoming more confident in using it and it's much easier to access the information they need. Every day, I get emails from people suggesting what new documents need to be added so it's evolving all the time – ISO in a Box was definitely the right way to go," said Angela.
The Equas consultant working with Blackthorn Health Centre is David Morgan. He said: "Every client's business is unique and Blackthorn was a first for us as we hadn't previously worked with a General Practice, although we already had considerable experience in the healthcare sector.
"The staff were extremely helpful in sharing information, working with us to tailor ISO in a Box to meet their requirements and, through their help, I'm confident that ISO in a Box now offers significant advantages for the healthcare sector."