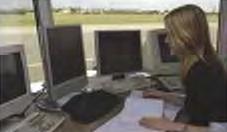 Is it true that we're set for wet weather if cows lie down? "No, cows are unreliable – seaweed is much better," said Tony Pallot and as Principal Meteorological Officer at the Jersey Meteorological Department, he knows what he's talking about. He's joking of course. Forecasting the weather is a highly technical and sophisticated science and Tony and his colleagues get it right the vast majority of the time.
They are based at Jersey Airport and provide 24/7 Met services for the Channel Islands Control Zone – Jersey, Guernsey and Alderney – plus any aircraft flying through the zone below 18,000 feet.
Part of the requirement of the International Civil Aviation Organisation is that any supplier of services for aviation needed to have a recognised Quality Management System in place by the end of 2010. The 'Single European Sky' initiative, which aims to harmonise the regulation of airspace, quickly followed suit. But it was Jersey Airport, the Met department's main client that was the motivating factor.
Tony explained: "Jersey Airport gave us a deadline to have a system in place by July 2010, which gave us just eight weeks. The system that was going to tick all their boxes was ISO 9001. All I had to do was find someone to help us – quickly."
An internet search brought up ISO in a Box along with other Quality Management consultants. "I fired emails off to a few of them and Equas phoned back very quickly, which told me they were very customer focused," said Tony. "I liked what they told me about ISO in a Box, especially the fact that they could work to our tight deadline."
Just seven weeks after the initial meeting with the Equas consultant, Jonathan Lea, Jersey Met department had its ISO 9001 certification.
"Jonathan was really positive but he did warn me that neither of us would be getting many weekends off. I even ended up taking my laptop on holiday, which didn't impress my wife too much. The whole process was very straightforward and Equas continued with excellent customer service all the way through."
The day after the successful external audit, Jonathan was at the airport ready to leave the island but all planes were grounded because of fog – which had, of course, been accurately forecasted!